I've always understood the importance of creating high-quality content to drive traffic and generate leads. However, I often faced the challenge of not having enough time to write articles for each of my businesses. That's when I developed StaffUp.ai's AI copywriter, Cody, to assist me in my content creation process. In this article, I'll share my experience and how AI copywriting can be an excellent solution, especially for solo founders & business owners who are short on time.
The Time Crunch for Solo Founders
Managing multiple businesses is a daunting task. As a solo founder, it's essential to allocate your time wisely and focus on high-priority tasks. I prefer to use my time in development, though that could be hurting the businesses because I need content to grow them.
Hiring a copywriter can be time-consuming and expensive, but delegating content creation to AI can be a game-changer for solo founders.
Finding a copywriter (list below of where find them)
Communicating and planning posts.
Content drafting and reviewing.
All these aspects take a large amount of time. On the flip side, AI can provide you with instant generated ideas and feedback on drafts. The key is give the AI additional features such as research documents, websites to scrapes, even learning based on PDF files and other resources. I've already started implementing those kind of features into StaffUp.ai.
Your AI team is waiting..
Get them working today
We've simulated AI staff for each position, web developers, copy writers and even an office pet.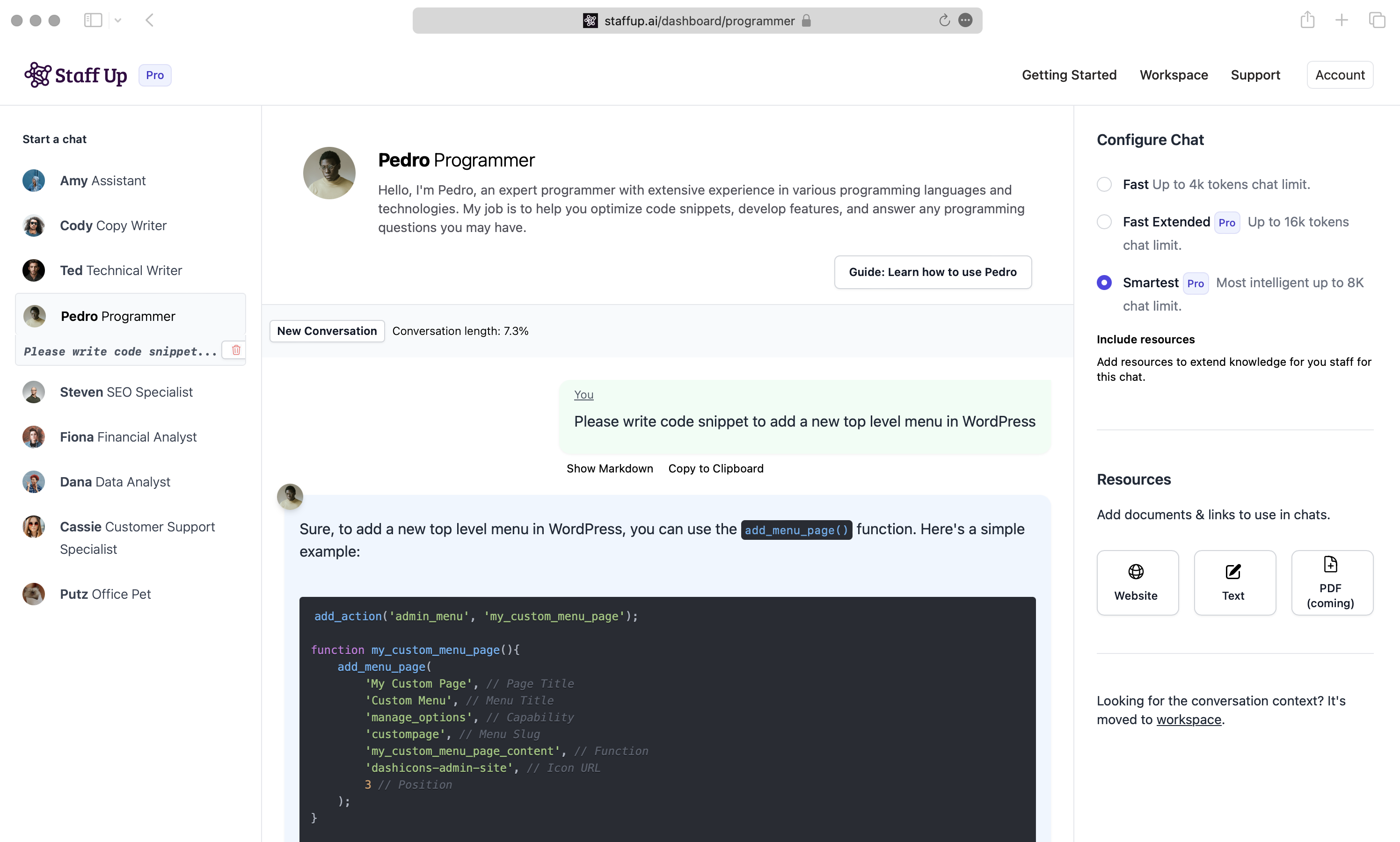 How AI Copywriting Can Help Grow SEO Traffic
By developing Cody, the AI copywriter from StaffUp.ai, I discovered a more cost-effective, faster, and efficient solution for content creation. Cody can transform ordinary ideas into captivating stories, delivering high-quality content that resonates with readers and elevates your brand.
Basically, I need to grow the organic traffic on my business sites. Therefore Cody is not the only AI i use. I combine Cody's copywriting skills with Stevens SEO knowledge.
The result is that I'm writing blogs posts and documentation faster than before. It's also more fun!
What can an AI Copywriter do?
You might wonder how AI copywriting can benefit your multiple businesses. Here are some example ideas for using Cody, the AI copywriter from StaffUp.ai, across various industries and content formats:
Blog posts: Cody can create informative and engaging blog posts (for SEO) tailored to your target audience, helping you attract more visitors and generate leads. The goal of blogs posts is to increase your content output, so you can rank on Google and other search engines faster.

Social media updates: Keep your social media channels fresh with regular updates crafted by Cody, ensuring a consistent brand voice and engaging content.

Product descriptions: Cody can write compelling product descriptions that highlight the benefits and features of your products, encouraging potential customers to make a purchase.

Email campaigns: Cody can help you craft persuasive email copy that drives opens, clicks, and conversions, boosting your email marketing efforts.

Ad copy: Stand out in the crowded advertising space with captivating ad copy written by Cody, designed to grab attention and drive results.
Embracing the Shift to AI Copywriters
As AI technology continues to advance, it's worth considering integrating AI copywriting tools like Cody from StaffUp.ai into your content marketing strategy. As a solo founder of multiple businesses, I've experienced the benefits firsthand, and I encourage you to give it a try and see the difference it can make for your ventures.
AI Assisting Real Copywriters
As a founder, I believe that the best way to use AI is to give it to a real copywriter who can use AI to help them write. Artificial intelligence acts as an excellent tool for copywriters to generate content quickly, enabling them to focus on other aspects of their work.
Where to Hire Real Copywriters
If you prefer working with a human copywriter or want to combine AI-generated content with a professional touch, there are various platforms available for finding the right copywriter for your needs. Here are some reputable resources to help you get started:
By considering these resources, you can find the ideal copywriter to complement your content creation strategy while leveraging the power of AI copywriting tools like Cody from StaffUp.ai.
Final Thoughts
Can AI do copywriting? The answer is YES. I highly recommend giving it a try, especially for solo founders who are short on time. Not only will you save time and money, but you'll also maintain high-quality content that helps drive traffic, generate leads, and boost your brand's authority. By integrating AI copywriting tools into your content marketing strategy, you'll be well on your way to achieving your business goals more efficiently and cost-effectively.