Hello, StaffUp community! We're excited to bring you the latest updates from September 2023. We've been working hard to improve your experience and introduce new features that will make your interaction with our AI staff even more seamless.
What's New?
Introducing Smart Tasks
We're thrilled to announce the launch of Smart Tasks. These are tasks that your AI staff can perform within a chat at any time. With Smart Tasks, your staff can act on their own or perform tasks within their capabilities when you ask them to.
Starting today, we're launching three Smart Tasks that you can use:
Perform a Google Search
Learn web content by any URL within the chat.
Learn PDF content by URL.
These tasks can be used by all AI staff and can even be combined. For instance, your AI staff member, Amy, could find a PDF on Google and summarize it for you. We're looking forward to adding more Smart Tasks, including those with third-party integrations. We'd love to hear your ideas!
Smart Tasks are available to all Pro users, and Free users during the beta period.
PDF Support
Great news! We've added support for chatting with PDF files. There are two ways you can use AI staff to interact with PDF files:
Upload the PDF file as a resource, then select it within any chat to extend your staff's knowledge.
Use Smart Tasks to have your AI staff read a PDF file from a website link.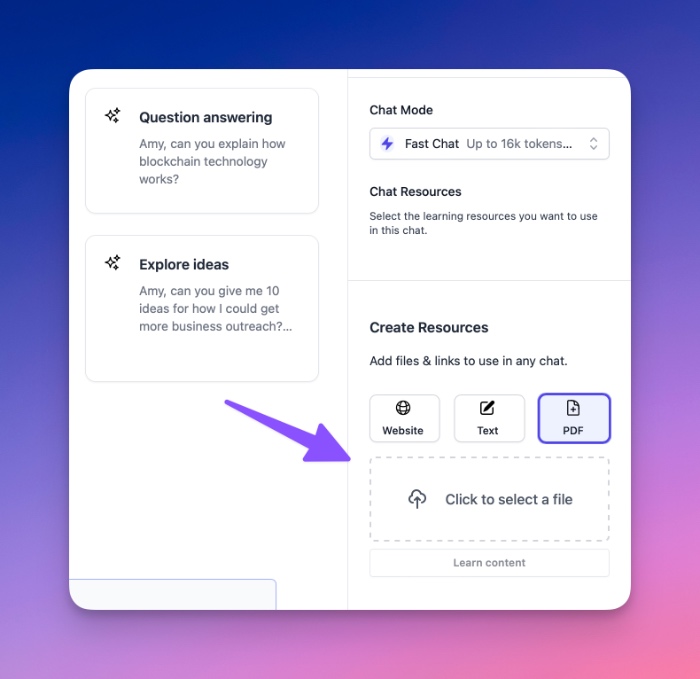 This new feature enables StaffUp.ai to learn more about your business or study PDF files. Please note that the PDF content will count towards the Chat Token limit. If you have large PDF files, let us know, and we'll prioritize features for handling large PDF files with AI.
We have more information in our post chatting with PDF files.
Chat Modes
We've simplified the "AI model" selector and combined the "Fast" & "Fast Extended" modes into the following:
Fast Chat (GPT-3.5) - Up to 4k tokens for Free users, or 16k for Pro users.
Smart Chat (GPT-4) - Up to 8k tokens for Pro users.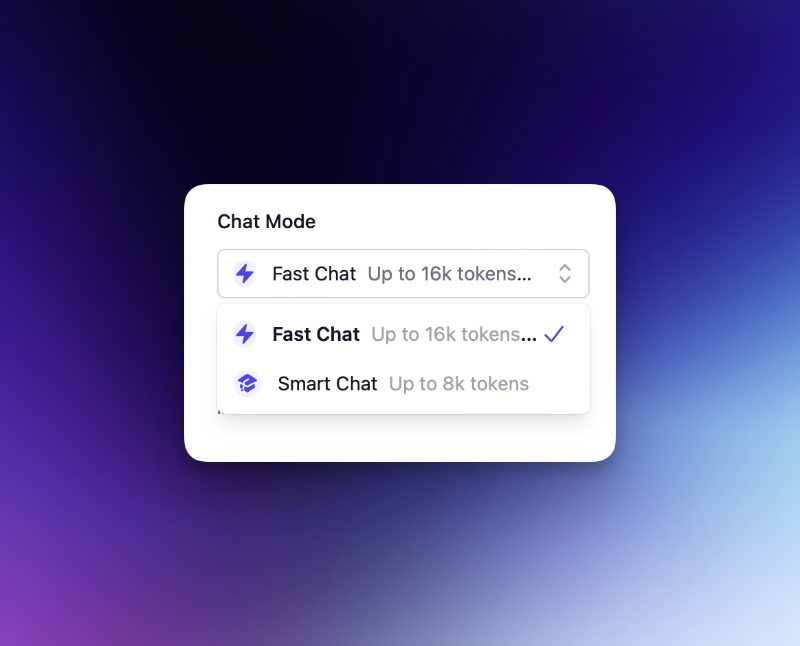 As a Pro user, you'll now enjoy the benefits of longer conversations by default, without having to manually choose between the 4k & 16k conversation length!
New Pricing Page
We have a new pricing page that provides a quick overview of our plans, including a detailed Plan Comparison table. You can now see exactly what each plan includes.
You'll also find a new token usage tracker on your account page. To help you understand what these 'tokens' are, we've prepared a post titled Understanding Chat Tokens.
See our new pricing comparison table.
Your AI team is waiting..
Get them working today
We've simulated AI staff for each position, web developers, copy writers and even an office pet.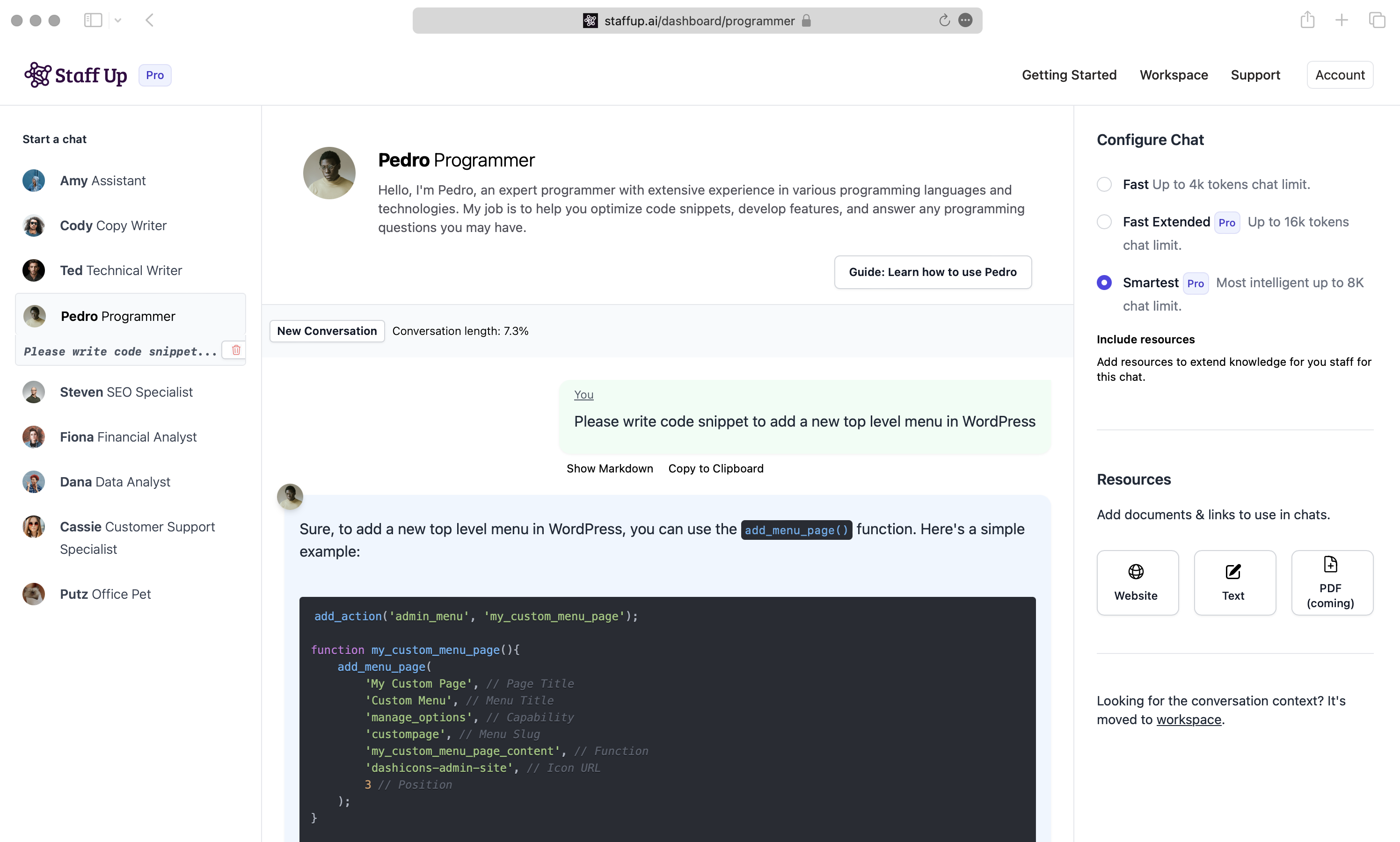 Other Notable Changes
Here are a few more updates we've made:
New: AI-generated unique staff images.
Improved: Login flow now defaults to the Password field instead of Magic Links.
Improved: Selected resources are now counted in the chat percentage.
Improved: Accuracy of daily token usage.
Improved: Stevens' responses when discussing SEO keywords.
Improved: Error handling when message responses fail.
Improved: Performance when loading the dashboard
Improved: Minor changes to enhance the dashboard's look and feel.
Fix: Long conversations with code snippets no longer slow down the message box.
Fix: The most recent chat is now auto-selected for pro users.
As always, we're committed to making StaffUp.ai the best it can be for you. If you have any feedback or suggestions, please don't hesitate to let us know. Thank you for being a part of the StaffUp community!