Let me first tell you about Wendy, and why I'm proud to introduce her to the StaffUp AI lineup.
Wendy the WordPress Developer is primarily focused being the best WordPress developer she can be.
What can Wendy do with WordPress?
Since AI is a fairly new topic, the general public is still unsure exactly how much AI can achieve when it comes to work. Therefore I've added templates that you can click on.
Wendy is not limited by the templates, they are only a guide. Ask her anything, she will tell you how she can help.
Custom Plugin Integrations
I want to start with my favorite use case - Plugin integrations!
Writing plugin integrations with AI is very exciting to me as it helps me speed up the development for my own plugins. Wendy can read & understand documentation for third-party plugins. You just have to provide her the links.
👇 See the below example video of Wendy. I asked have her make a Custom Visibility Condition with the plugin Conditional Blocks for WordPress
Write, customize, refactor and find code bugs
The best way to use Wendy is keep talking to her. Communicate about the code snippets she sends and has her to make revisions.
You even ask her to look for bugs or potential errors within your code.
Plugin development
Wendy can aid you in plugin development, by following simple instructions and writing out the complex PHP code. She will reply with the code snippets for your requests.
She will already have a wide knowledge on plugins like WooCommerce. FYI - You should always test the code snippets you create AI.
Theme Customization
WordPress Theme development is similar Plugin development. Wendy will be able to help programmatically adding new sidebars and other WordPress theme related changes
Explain code in English
Wendy is great at explaining code, which is a great feature for those who have WordPress sites, but new to PHP coding. You can send her your code snippets, and ask her to explain them in plain English.
Lot's more use-cases!
There's so many things Wendy can do. You should ask her yourself, or look at the message templates to get started.
How does Wendy compare to Pedro the programmer?
This was one of the first questions I received. Obviously Pedro is an expert AI programmer can help with almost all programming languages and code snippets including WordPress. However there's some big differences between the pair.
I'll break down why Wendy is better suited to WordPress.
Less explaining - Wendy is pre-programmed for WordPress & WordPress plugins questions.
Wendy will try use the WordPress Coding Standard.
Wendy try her best to stick real WordPress action and filter hooks. (She should ask you for documentation links if she is unaware of your request)
Wendy will received specific features for WordPress development.
Your AI team is waiting..
Get them working today
We've simulated AI staff for each position, web developers, copy writers and even an office pet.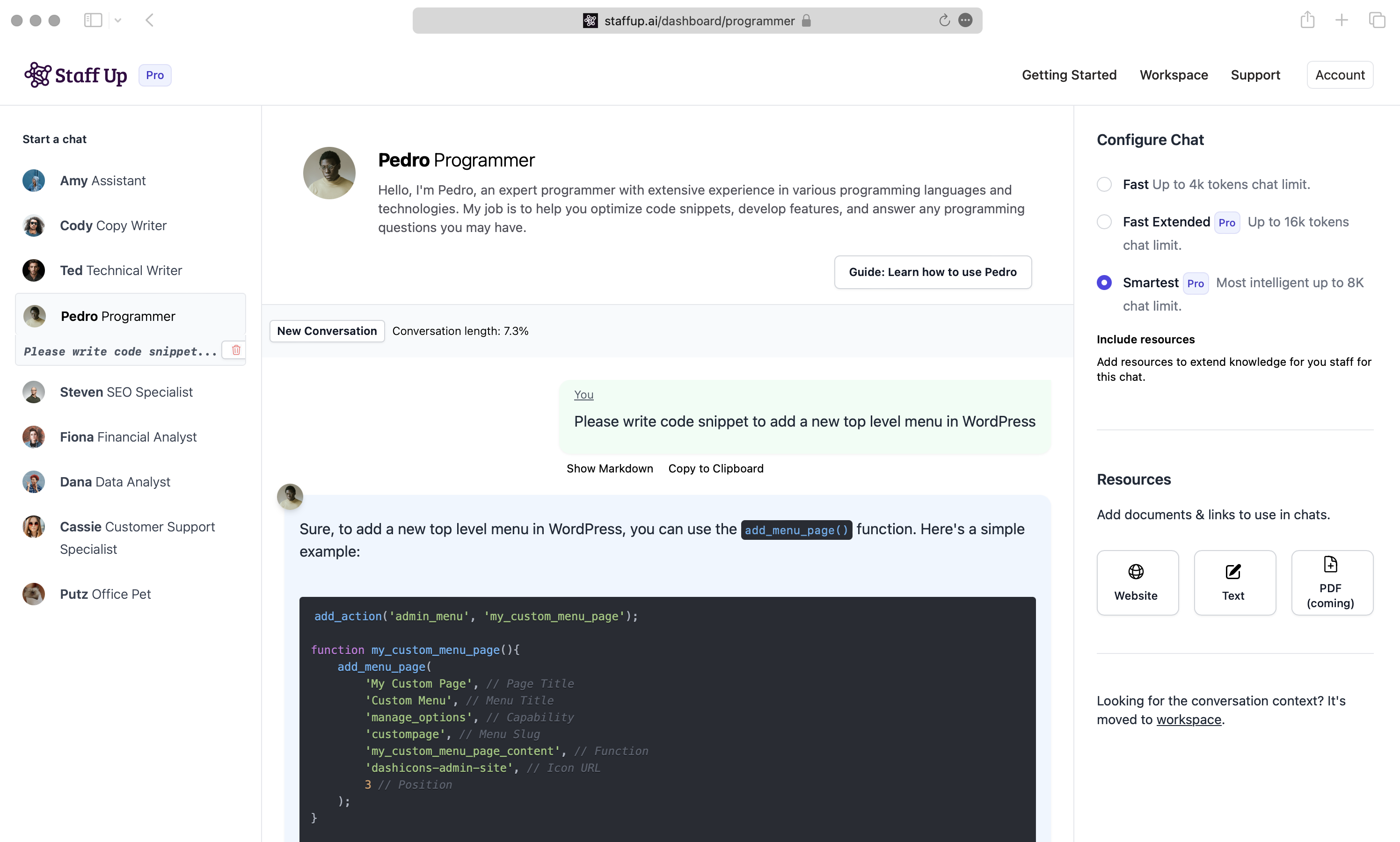 Should you hire a WordPress developer, or use AI?
The answer: It depends!
It's true that AI is much cheaper than hiring a real life WordPress developer, but that doesn't mean AI is going to replace them.
Using Wendy as your Wordpress AI developer give you a good stating ground for whatever you are trying to build with WordPress code. If your requirements are straightforward, it will save you a lot of time!
However AI shines when it's used together with a real developer. A human has understanding and vision for projects. Their productivity can greatly increase when use it together with AI.
So, if you are a freelancer who is looking to speed up their workflow: Yes, hire AI!
if you need straightforward code help: Yes, hire AI!
If you run an agency you should consider giving your current developers access to AI: Hire Both!
If you don't have technical knowledge, and you want to create a fully functioning plugin with many moving parts: Hire a human!
You can try Wendy for free today 👀
In conclusion, Wendy the WordPress AI Developer is here to revolutionize the way we work with WordPress code. With Wendy's help, you can streamline your plugin integrations, customize themes, write and refactor code, and even have code snippets explained in plain English. The possibilities are endless!
But that's not all. Wendy is constantly evolving and gaining new features to enhance your WordPress development experience. We are committed to continuously improving Wendy's capabilities to cater to your needs.
And the best part? You can Try Wendy for free right now 👩‍💻
We value your input and ideas. As we continue to enhance Wendy's features, we would love to hear from you. Reach out to us at support with your suggestions and let's build our public roadmap together.
Happy coding!